Australia Review:
So the first race of the season has finished! The Australian Grand Prix was a little bit boring but it was hard to overtake with the Melbourne track and the wider cars. I'm gonna go through qualifying and the race. Of course there will be spoilers so be warned!
So quali was pretty close but at the end, Lewis Hamilton pipped Sebastian Vettel, who got second, and Hamilton's new teamate Valterri Bottas who got third. Behind Bottas was Kimi Raikkonen in 4th and Max Verstappen in 5th, and in the Red Bull. His teammate, Daniel Riccardo however crashed in Q3 and to make things worse he hasnt set a lap yet so he qualified in 10th.
Then after Max it is the Haas of Romain Grosjean who done amazing to get 6th place. Then there is Massa, the two Torro Rosso's of Sainz and Kvyat and then Riccardo. The entire grid is here
| Position | Driver | Team |
| --- | --- | --- |
| 1. | Lewis Hamilton | Mercedes |
| 2. | Sebastian Vettel | Ferrari |
| 3. | Valtteri Bottas | Mercedes |
| 4. | Kimi Raikkonen | Ferrari |
| 5. | Max Verstappen | Red Bull |
| 6. | Romain Grosjean | Haas |
| 7. | Felipe Massa | Williams |
| 8. | Carlos Sainz Jr. | Torro Rosso |
| 9. | Daniil Kvyat | Torro Rosso |
| 10. | Daniel Riccardo | Red Bull |
| 11. | Sergio Perez | Force India |
| 12. | Nico Hulkenberg | Renault |
| 13. | Fernando Alonso | McLaren |
| 14. | Estaban Ocon | Force India |
| 15. | Marcus Ericsson | Sauber |
| 16. | Antonio Giovinazzi | Sauber |
| 17. | Kevin Magnussen | Haas |
| 18. | Stoffel Vandoorne | McLaren |
| 19. | Lance Stroll | Williams |
| 20. | Jolyon Palmer | Renault |
So now I am going to talk about the race. Like I said, it was not the most exciting race but it was ok I guess!
Before lights out, Daniel Riccardo's car broke down following the crash in qualifying on his way to the grid. He went back to the pits and the engineers tried to fix his car. After that they went to start the race, but the start was aborted and they had to do another lap of the circuit after someone was in the wrong position, after the confusion with Daniel. So it was finally, after it seemed like forever, got under way and Hamilton got away without any problems, and Vettel was under pressure from Valterri Bottas. Going into Turn One, Vettel held off Bottas and behind them was Kimi Raikkonen and Max Verstappen, who were also fighting, although Kimi held him off. The grid behind was quite clean going into Turn One apart from a few cars going slightly wide, until Turn Three, with the drivers of Marcus Ericsson and Kevin Magnussen touched after the Renault driver hit the kerb, lost the steering, and went into the side of Marcus's rear tire, spinning him around.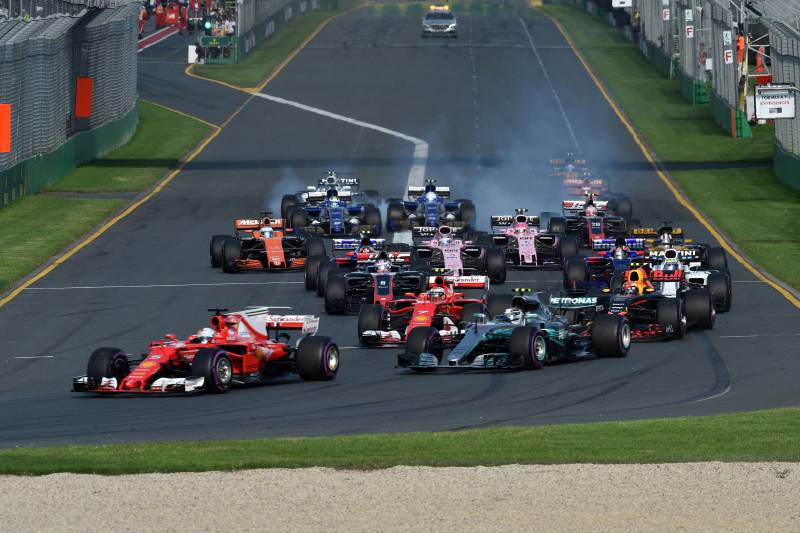 On Lap Three, Daniel Ric rejoined the race after the earlier incident. A few laps later Hamilton told his team that he didn't have very good grip. Then not much happened until Romain Grosjean retired,after he peeled into the pitlane, withh heaps of smoke coming from the rear of the Haas.
Then on Lap 18, Lewis pitted for the soft tire and that made go down to fifth, behind Max Verstappen and it helped Sebastian Vettel get away a bit. A few laps later, Hamilton was still behind Max and this was really helping Vettel who was pulling further away in his clean air. Then after a long stint, Vettel came into the pits on Lap 24, and came out in 3rd, which was just ahead of Verstapeen and Hamilton, and Seb was basically, in the long run, in the lead! Then NOOOOOOOOOOOO Daniel Riccardo retired after a problem making him pull off to the side of the track. Then after that not much happened, but we did get a little bit of racing when a Renault, a Force India and a McLaren all went three wide going into Turn One.
With a few laps left to go Fernando Alonso retired and then it was easy for Sebastian Vettel to win the Austrailian Grand Prix! Lewis came second, gaining 18 points and his teammate of Valterri Bottas came third. Kimi and Max finished off the top five and the Williams of Felipe Massa, who had the shortest retirement ever, finsihed in a solid sixth place. Then there was Perez, Sainz, Kvyat and Estaban Ocon who rounded out the top ten. If you want to see full results click on the link below.
So that was the Australian Grand Prix. It was boring at times but Vettel got the strategy right and was able to get in front of Lewis, after the pit stop. I hope you enjoyed and I'll see you again in Shanghai!